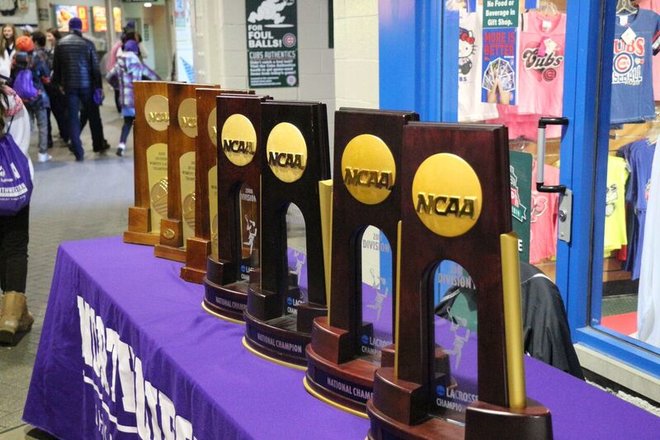 I don't know if you've heard, but according to the Intercollegiate Women's Lacrosse Coaches Association (IWLCA) Poll, your Northwestern women's lacrosse team is currently ranked fourth in the country. Fourth! That's something to get excited about.
It certainly won't be an easy season for the Wildcats, as 11 of their 16 scheduled opponents are currently ranked in the top 18 of the current IWLCA Poll. But Northwestern has proven year in and year out that they are among the elites in the women's lacrosse world. Coach Kelly Amonte Hiller has a 243-47 record and seven NCAA championships in her 14 years leading NU, and the Wildcats are coming off a season that ended with them ranked eighth in the country and are advancing to the third round of the NCAA Tournament.
Granted, it's early, but a high ranking to start the season and plenty of exciting matchups on the horizon give reasons for buzz around NU women's lacrosse once again in 2016.
Now, if this is the first you're hearing all of this, you may have also missed the team's season opening 11-8 win over No. 5 Duke on Sunday, but never fear. Here's a little primer on key matchups for women's lacrosse in 2016, so you never have to miss a minute of the action:
Tuesday March 8 vs. Marquette
The new turf at Lanny and Sharon Martin Stadium looks great! Soon enough, #B1GCats fans. Soon enough. pic.twitter.com/DOZPrhg5yN

— Northwestern Lax (@NULax) January 27, 2016
While clearly not NU's biggest game in terms of the notoriety of their opponent, this is the first chance for you the fan to show your women's lacrosse pride - and I suggest you take it.
The 'Cats will play at the newly renovated Lanny and Sharon Martin Stadium for the first time in this matchup, hosting the Marquette Golden Eagles. NU handled Marquette fairly easily in their matchup last season, trouncing them 13-6 in Milwaukee, but if we've learned anything from anything that has ever happened, there are no givens in Northwestern sports.
This matchup will also occur on the heels of a four-game road trip to kick off the season, featuring four teams all ranked in the top 16 of the current IWLCA Poll (Duke, Virginia, Syracuse, Louisville), so we should have a barometer of how good the Wildcats really are at this point.
Sunday March 20 vs. No. 2 North Carolina
This game is a different story.
The third game of a four-game homestand for NU will see No. 2 North Carolina roll into Evanston looking to build off the momentum of a hard-fought 12-11 victory in Chapel Hill last season.
Simultaneously, the Wildcats will be looking for revenge and potentially ascend even higher within the top tier of college women's lacrosse, in probably their biggest test of the season up to this point...
Thursday March 31 at No. 1 Maryland
Until this one.
Although they haven't played a game yet this season, the Terrapins currently sit first in the current IWLCA Poll, posing the biggest challenge for the fourth-ranked Wildcats in a season jam-packed with top-tier competition.
The Terps find themselves with such favorable ranking to start the season with good reason. Maryland is currently both the defending National Champion and Big Ten Conference Champion and handed NU two of its seven losses in 2015 in embarrassing fashion. In their only regular season matchup in 2015, the Terrapins dismantled the Wildcats in Evanston 16-5.
A little less than two months later, Maryland knocked the eighth-seeded Wildcats out in the third round of the NCAA Tournament with an even more demoralizing 17-5 victory.
A trip to College Park to open up their conference schedule represents a perfect revenge opportunity for the 'Cats.
Saturday April 23 at No. 6 Penn State
NU will be out for vengeance again in this one.
Nine short months ago, Penn State knocked the Wildcats out of the 2015 Big Ten Tournament by a score of 13-7, and the Wildcats will still have a bitter taste in their mouths when they trot into State College this April. Similar to Maryland, Penn State also toppled NU in their regular season matchup last season, which should only serve to fuel the Wildcats' competitive fire in this one.
In their second to last game of the season, this matchup provides NU with a great opportunity to add (hopefully) another big-time win to their resume and roll into the Big Ten Tournament with serious momentum.