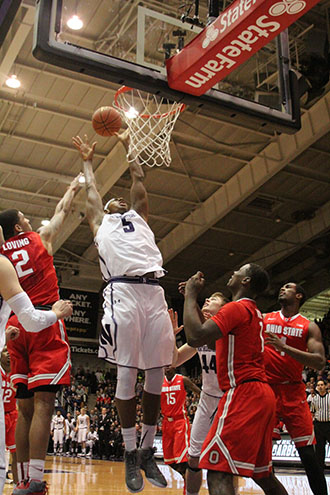 If you hadn't heard the name Dererk Pardon before Dec. 30, 2015, no one would have blamed you.
But it was on that day, in just his second ever college game, that the freshman big man out of Villa Angela-St. Joseph High School in Cleveland, Ohio made his mark on Northwestern basketball.
Down 12 early in the second half of the Wildcats' Big Ten opener against the Nebraska Cornhuskers and missing three-year starting center Alex Olah, Northwestern's first ever NCAA Tournament berth had never seemed more distant. But, fueled by 28 points and 12 rebounds on 11-for-14 shooting from Pardon, the Wildcats mounted a comeback in Lincoln, potentially saving their season.
Just four days earlier, Pardon's redshirt had been 'burned' in response to Olah going down with a stress fracture in his foot.
"I just didn't think there would be enough minutes for Dererk," said Northwestern head coach Chris Collins on the decision to redshirt the freshman. "The joke's kind of on me I guess."
Staying ready has been a motto for Pardon throughout his basketball career, from middle school, to his time at Villa Angela-St. Joseph, and now at NU. He attributes this mentality to his parents, especially his father, who according to Pardon, always preached to him to that his time would come.
"I just always stayed ready," said Pardon. "I didn't just sit around. I ran extra sprints and worked out all the time, and it kept me ready."
However, being offered a Division I scholarship and then being told you won't play at all in your first year presents a whole host of challenges, especially for a player of Pardon's skill level. Going from one of the most lauded high school basketball programs in the United States (six state titles in the last 25 years and two in the last three) to the bench of a middling Big Ten team is certainly an adjustment.
"High school is totally different from college, it's a big jump physically and in the speed of the game," said Pardon. "But in high school I always had the mindset of just staying ready and working my hardest every day, and that has really carried over into college. As you can see it's going well for me," he said.
Humility has always been a strength for Pardon, but at the end of the day, he's just a freshman in college playing the sport he loves. He allows that to show in moments like this one in the postgame handshake line after the Nebraska game.
PARDON THE SMIRK pic.twitter.com/l1iq2BEPoL

— Jon Davis (@itsjondavis) December 30, 2015
Pardon, though, has seen his statistics come back to earth. Since Dec. 30, he has only reached double-digit points twice and double-digit rebounds once. His averages for the season sit at 10.4 points per game and 5.8 rebounds per game while shooting 73.1 percent from the field. Since Olah's partial return on January 16 against Penn State, Pardon has seen his minutes dip to 17.7 per game, compared to 22.3 per game during Olah's absence.
In spite of a smaller role, Pardon has shown an eagerness to learn from his fellow big men Olah and Joey Van Zegeren, repeatedly referring to them as "big brothers" and "mentors."
"He has a lot of experience, so he's also taught me a lot of intangible things I wouldn't know as a freshman," said Pardon on the leadership of Olah.
Despite Pardon's contributions, though, the Wildcats have struggled since Olah's initial injury exit. As of today, they sit at 15-6, 3-5 B1G and are on the outside looking in with regards to the NCAA Tournament.
While this season may not work out for the Wildcats, Pardon's contributions at a critical juncture are still worth noting. In a season where he was never supposed to see the court, the freshman out of Cleveland, Ohio stepped up in difficult circumstances and gave NU a chance to make something out of a season that otherwise could have gone down the drain.
So regardless of when you first heard the name Dererk Pardon, it's probably something you should remember. After all, he may just be the future of Northwestern basketball.