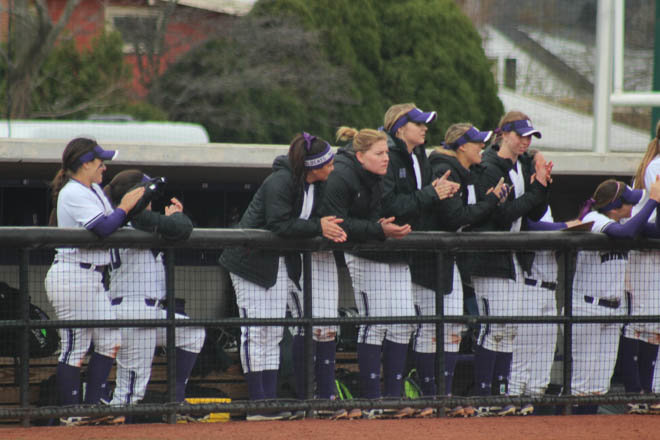 Don't look now, but Northwestern might just be on a roll.
NU swept a series with unranked conference foe Iowa in Evanston over the weekend, marking its second, third and fourth consecutive victories. The 'Cats moved to 14-20 on the season with the sweep, and are 5-4 since the start of conference play.
Game one early Saturday afternoon didn't start ideally for NU, as two first-inning Hawkeye homers gave the visitors a 3-0 lead entering the bottom half of the top frame. Northwestern would answer promptly, though, with a six-run second inning capped by an Amy Letourneau three-run blast to break a 3-3 tie. Letourneau would finish the game with eight runs batted in and struck out eleven over five innings pitched en route to a 13-9 Wildcats victory.
The afternoon Saturday game played out much differently, with Northwestern jumping out to a 5-0 advantage by the fifth inning. Letourneau contributed another three runs batted in in the second contest, but was not called on to pitch. Instead, it was freshman Kenzie Ellis who earned the win, after earning a save in the opening game of the doubleheader. Ellis held Iowa hitless until the fourth inning, and eventually ceded the mound to freshman Kaley Winegarner, who locked up the final out after the Hawkeyes clawed back into the game with five runs in the final two innings. They fell just short, though, as the 'Cats took the second game 6-5.
Winegarner went on to start the final game of the series on Sunday, lasting three innings before being pulled with NU trailing 3-0. However, as it did in the first matchup, Northwestern climbed back into the game. An Andrea Filler three-run home run in the bottom of the third inning knotted the game at three and after a Sabrina Rabin sacrifice fly in the following frame, NU didn't look back, going on to take the game 9-5.
There was certainly no shortage of power in Evanston over the weekend, as Northwestern smacked eight long balls over the course of the series, accounting for 16 of the team's 28 runs in the series. Letourneau led the way in this respect with three home runs and 11 runs batted in. Filler also had herself a series, contributing four hits, two doubles and two home runs.
Northwestern will travel to Urbana-Champaign for a doubleheader against Big Ten opponent Illinois on Wednesday, April 13 and look to build off their current momentum.