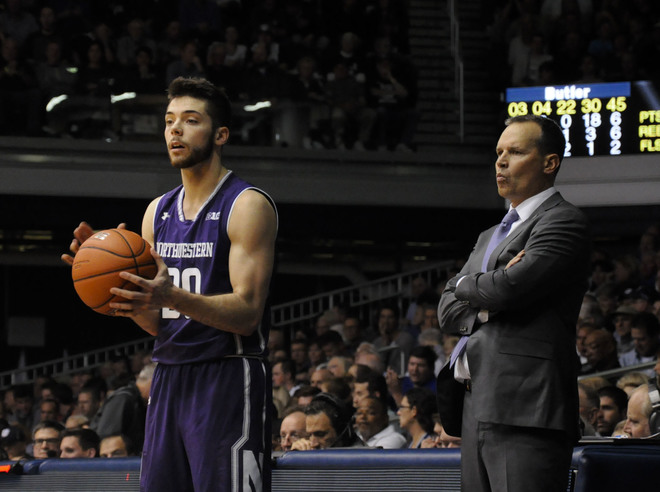 Northwestern (12-3, 1-1 B1G) lost its third game of the season Friday, a 61-52 loss to Michigan State (10-5, 2-0 B1G) in a tough road environment. The Wildcats fell behind early, and despite an impressive comeback effort, could never quite catch up with the Spartans.
It was hardly a season-changing loss, as NU displayed a lot of the positive aspects of a team that many believe will make the NCAA Tournament: a newfound toughness and maturity, a potential superstar in Vic Law and a balanced, versatile attack. The reportedly soon return of big man Dererk Pardon should mend some of NU's rebounding and foul trouble issues, and there's no reason to be any less optimistic about March.
But, now 15 games into the season, there's still one lingering problem that the 'Cats can no longer ignore – the struggles of Bryant McIntosh. NU's junior point guard is a captain, the floor general, and before the season, was the presumed star and leader of the Wildcats. Last year, McIntosh set NU's single-season record with 213 assists, was an All-Big Ten honorable mention and was clearly the best player on a NU team that was only getting better.
After averaging 13.8 points, 6.7 assists and 2.4 turnovers last season, McIntosh has regressed, putting up just 11.7 points, 5.6 assists and 2.9 turnovers this season. Last year, McIntosh shot 42.3 percent from the field and 36.6 percent from three-point range, and was one of NU's most dangerous scorers.
This season, McIntosh has really struggled, shooting just 35.1 percent from the field and 24.6 percent from three. Simply put, McIntosh hasn't been able to make baskets consistently, and he's no longer a surefire scoring option.
Early on, it seemed like McIntosh was just shaking the rust off. He was pitiful against Notre Dame and Bryant, shooting a combined 6-of-29 from the field and 1-of-8 from three. But he also powered the 'Cats to victory against Wake Forest (23 points, 10-of-16 from the field) and dropped 20 points in a big win over Texas.
However, McIntosh still hasn't been able to figure out his shooting woes. In his last six games, he's only gotten worse, shooting 23-of-78 from the field (29.4 percent) and 7-of-29 from three (24.1 percent). Not only is McIntosh inefficient, he's also shooting more – his average of 12.5 field goal attempts per game is the highest in his career.
Vic Law (13.7 ppg), Scottie Lindsey (15.7 ppg) and a balanced scoring attack have made NU a better team, and the emergence of other scorers has covered up McIntosh's poor performance thus far. Luckily, the 'Cats don't have to rely on McIntosh like they did for long stretches of last year. But can NU survive Big Ten play if McIntosh's shooting woes continue?
A year ago, it would have been ridiculous to suggest that NU could make the NCAA Tournament with McIntosh playing the way he is. That was before Vic Law and Scottie Lindsey proved themselves as consistent scoring options. But the fact remains – this is Bryant McIntosh's team. If the Wildcats are going to make the NCAA Tournament, he will lead them there. As a point guard, a captain and a leader, McIntosh will have to step up.
That means showing up for big games. Seven points on 3-of-14 shooting won't cut it against Michigan State. Against teams like Indiana, Purdue and Wisconsin, NU will need McIntosh to perform. The Big Ten will be a battle every night, and if the Wildcats' point guard isn't on, they will struggle.
After two years, McIntosh finally has the help he needs. As a team, the Wildcats are good enough to make the NCAA Tournament. But they will need productive performances from their point guard to lead them there.