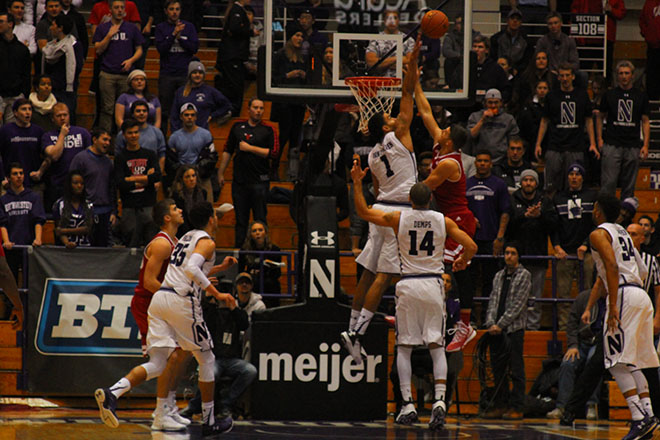 It didn't feel like just any regular season game when the Wisconsin Badgers rolled into Welsh-Ryan Arena on Tuesday night.
Recently retired coach Bo Ryan no longer roams the Badger sidelines, and the visitors entered play at just 9-8 (1-3 B1G), but there was a definite buzz around Welsh-Ryan Arena during this one. And rightfully so, as Tuesday was a historic night for Northwestern men's basketball and perhaps a season-altering one, as well.
With a 70-65 home victory over Wisconsin (9-9, 1-4 B1G), Northwestern (15-3, 3-2 B1G) has matched its best mark to open conference play since 1968. The win was also the Wildcats first home victory against the Badgers in seven years. Furthermore, NU's 15 wins have already tied last season's win total.
"Three Big Ten games in six days takes a lot out of guys," head coach Chris Collins said. "So for us to come out with energy tonight and cap off those three games and win two out of three, that's really good. Someone mentioned to me it's been a little bit of time since a team here has been 3-2 [in Big Ten play], so that's pretty good."
Northwestern came out of the gate red-hot, eager to build off a lopsided 77-52 victory in Minnesota over the weekend. The home side opened the game on a 10-3 run in the first 3:27, keyed by six points and two assists from sophomore guard Bryant McIntosh. McIntosh led all scorers in the contest with 28 points on 10-for-19 shooting (2-for-3 from three-point range) and also added five assists and four rebounds. That was enough to even evoke multiple "M-V-P" chants from a respectably rowdy NU student section.
"[McIntosh] was just tremendous," Collins said. "People will start realizing, forget about guards, he's one of the best players in the Big Ten. He absolutely led us to victory tonight."
The Wildcats would lead by as many as nine early, but the Badgers clawed their way back into the game, cutting the deficit to 26-24 by halftime. Despite shooting 45.8% from the field in the first half, Northwestern's three-point shooting struggles continued. The Wildcats converted only 2 of 9 (22.2 percent) three-point attempts in the first half and were just 4-for-12 (33.3%) on the night.
Northwestern instead employed a more physical brand of basketball on the offensive end, outscoring Wisconsin 30 to 18 in the paint and outrebounding the Badgers 11 to 7 on the offensive glass. The Wildcats were also able to generate 11 second-chance points off those offensive rebounds, compared to the Badgers' four. NU found a particular advantage at the charity stripe as well, ending the game with 34 free-throw attempts compared to Wisconsin's 13.
"I thought we did a great job of winning without having to hit a lot of jumpshots," Collins said. "We were able to win a grind-it-out kind of game. I was really proud of our guys."
The game remained a tight contest throughout the second half, but the hosts eventually pulled away. A Zak Showalter three-pointer put the Badgers up 47-45 with 8:56 to play in the game, but Northwestern answered with a 12-to-3 run, including a rim-rattling alley-oop from McIntosh to Joey Van Zegeren. Their chemistry on the pick and roll was a key throughout the game.
The Wildcats didn't look back after Van Zegeren's slam, as they withstood a late rally from the Badgers thanks to 13 points from McIntosh down the stretch and a key charge drawn by sophomore big man Gavin Skelly with 12.6 seconds to play in the game.
A win like this may not say much about the Wildcat's tournament chances (something on a lot of people's minds), but a tough conference victory in front of a galvanized home crowd is nothing to scoff at. Northwestern will look to build off two potentially season-saving conference victories when it hosts the Penn State Nittany Lions (10-7, 1-3 B1G) on Saturday.
"We just have to keep playing," Collins said. "We aren't going to overreact. The thing about playing in the Big Ten is that if you win, you have to get ready for the next one and if you lose, you just have to dust yourself off and get ready to fight the next game."