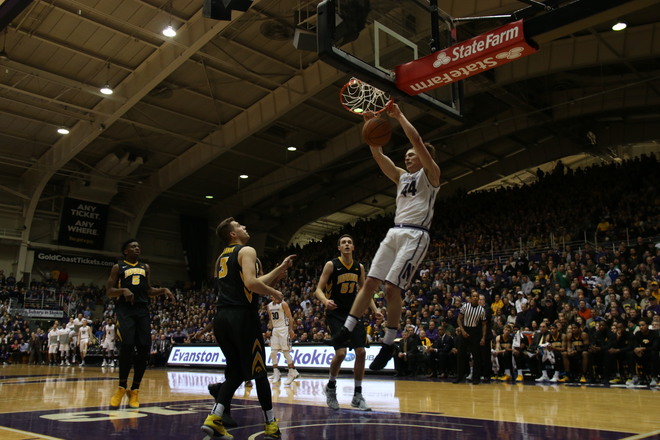 Northwestern (15-4, 4-2 B1G) dominated Iowa (11-8, 3-3 B1G) Sunday night, posting a 89-54 blowout win at Welsh-Ryan Arena.
Bryant McIntosh was excellent all night, scoring 22 points on 9-of-11 shooting while dishing out 10 assists. NU's point guard controlled the game and seemed to always make the right decision, whether it was finding teammates with pretty passes or converting floaters in the lane. McIntosh has struggled shooting the ball this season, but his performance against Iowa was a reminder of his capability to carve up defenses.
.@Bryant_30_Mac has the ball on a string, and you could fill a 🐷 bank with the dimes he's dropped tonight: https://t.co/ytiVhMVRES

— Big Ten Network (@BigTenNetwork) January 16, 2017
Scottie Lindsey was also superb, tallying 24 points, seven rebounds and five assists. Lindsey has scored 10 points or more in every single game this season, and he's shown no signs of slowing down as one of the most dependable scorers in the Big Ten.
When the Wildcats' backcourt plays as well it did against Iowa, they're going to be tough to beat. Lindsey's consistent scoring punch paired with McIntosh's playmaking ability has proven to be lethal. But McIntosh needs to build off his strong performance and be more efficient consistently, giving the 'Cats more games like this one.
"They like to view themselves as an elite backcourt," head coach Chris Collins said of Lindsey and McIntosh. "They can both score, they can both handle, they can both make plays for others."
NU did an especially impressive job on Iowa's Peter Jok, who averaged 22.9 points per game coming into the contest. The 'Cats limited Jok, arguably the best scorer in the nation, to just four points on 2-of-11 shooting. Vic Law chased Jok around, making him uncomfortable and never letting him get into a rhythm.
As a team, NU shot 60 percent from the field and 46 percent from three-point range. The Wildcats out-rebounded Iowa 39 to 24 and dominated inside, scoring 42 points in the paint compared to Iowa's 18. They had 29 assists compared to Iowa's 12 – the Wildcats put on a basketball clinic, and it was impressive.
Now five games into Big Ten play, the 'Cats have proven that they are a team that is very much in contention for the NCAA Tournament. That will be determined by how the Wildcats hold up during the rigors of conference play. The jury is still out on whether this will be the year, but dominant performances like this one are suggesting that NU will be very happy come March.