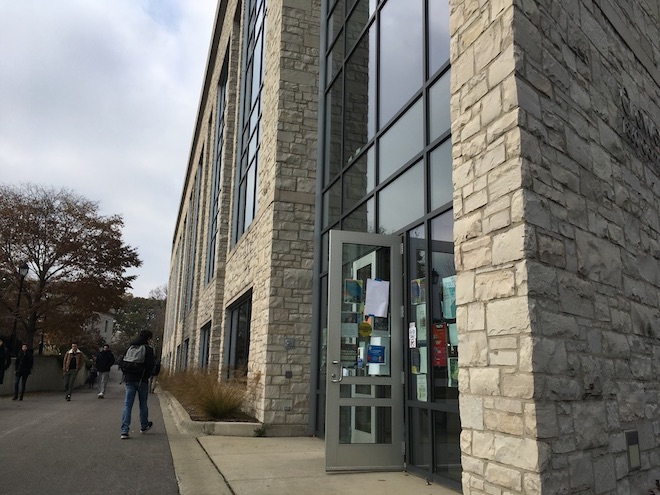 Signs saying "IT'S OK TO BE WHITE" were found by two Northwestern graduate students in Crowe Hall on Saturday, according to African American Studies Department Chair E. Patrick Johnson. The students said signs were found on every floor, including seven on the fifth floor, which houses the African American Studies Department.
Besides hosting the African American Studies Department, Crowe Hall is also home to the Latina and Latino Studies Program and the Asian American Studies Program – all ethnic studies programs with histories rooted in minority student activism.
The graduate students filed reports with University Police and the Bias Incident Response Team. At the time of publication, the University had not released a statement about the signs.
"We do not know who was responsible for posting the signs, but do know that such signs have been posted on college campuses around the country as a part of an alt-right scheme, as covered in The Washington Post," Johnson said via email.
& yesterday Northwestern graduate students discovered signs all over Crowe Hall that read "It's Ok to be White". https://t.co/6fFkGls2dS

— Barnor Hesse (@barnor_hesse) November 12, 2017
Similar posters have been found on college campuses across the country as well as in Canada, apparently spread among white nationalists online earlier this month. According to the Washington Post, the signs originated on the anonymous imageboard website 4chan, then spread across the internet as signs were found in colleges and cities around the country and in Canada. The Post said the idea behind the campaign is to "feed social unrest and sway white Americans to far-right ideologies".