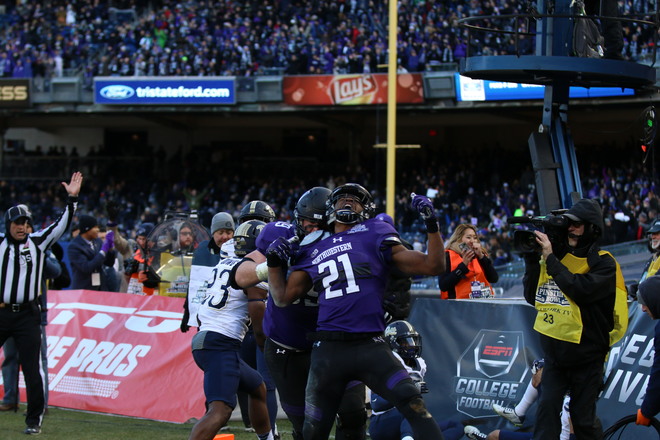 Bend, but don't break. It's been Northwestern's motto all year, and Wednesday's Pinstripe Bowl was no different. It wasn't easy, but NU (7-6, 5-4 Big Ten) pulled off a 31-24 win over No. 22 Pittsburgh (8-5, 5-3 ACC), recording its third bowl victory in program history.
Throughout the game, the 'Cats found themselves in more than a few challenging situations. But each time, NU seemed to pull through. Pitt got to the red zone seven times – but NU forced key turnovers, holding the Panthers to just three TDs in those seven trips. The Wildcats also had four important fourth-down tries, and were a perfect 4-for-4, extending drives and finding ways to score.
Justin Jackson, the Pinstripe Bowl MVP, led the offensive charge for NU, dazzling with an out-of-this-world performance. The junior running back had 33 carries for 224 yards and 3 TDs, and did things like this:
.@NUFBFamily's Justin Jackson (@J_ManPrime21) with the savage juke on @Pitt_FB's Dennis Briggs. @PinstripeBowlpic.twitter.com/Fdpt49fS5P

— Jeff Eisenband (@JeffEisenband) December 28, 2016
Jackson, perhaps NU's most indispensable player, single-handedly turned the game around for the 'Cats. A huge 68-yard run from NU's own endzone in the second quarter sparked the Wildcat offense, and from that point, the 'Cats never looked back.
"Justin's day will go down in Northwestern's football history as one of the best performances ever by a running back," head coach Pat Fitzgerald said. "He'll be the first to give credit to the offensive line and the wide receivers for the great job they did blocking. But I think he made quite a few guys miss out there on the field, too. It was a spectacular day."
Clayton Thorson was 23-of-36 for 214 yards, with an eventual 22-yard game-winning touchdown pass to Garrett Dickerson on 4th-and-2. Thorson wasn't spectacular, throwing a costly interception early in the game and making his fair share of mistakes. But again, when it mattered most, the redshirt sophomore QB delivered.
While NU's offense performed well, it was the defense that really came up big. Pitt boasted one of the best offenses in the country coming into the game, scoring an average of 42.3 points per game. It didn't seem like the 'Cats had much of a chance against the Panthers high-scoring attack.
But NU held star running back James Conner to just eight carries for 32 yards before he left the game injured late in the first half. Pitt QB Nathan Peterman also got injured, and backup QB Ben DiNucci threw two late interceptions, sealing NU's victory.
All in all, the Panthers tossed three interceptions and had two fumbles (one lost). They were a combined 6-of-15 on third and fourth downs. Pitt's offense had a few explosive plays, but for the most part, NU outplayed one of the best units in the country, and that's why it won the game.
"I mean, you watched [Pitt] on tape, it was, like... Every time they were [in the red zone] they were scoring touchdowns," Fitzgerald said. "We just felt like we had to fit things properly, and we couldn't give them anything cheap. We created turnovers. That was huge. I mean, that was the difference in the game, right?"
With the victory, the 'Cats finished the year 7-6, building consecutive winning seasons for the first time since 2009-10. In what was a rollercoaster season, NU bent, but it never broke. After a rocky 1-3 start, which included an embarrassing 9-7 loss to FCS-opponent Illinois State, the 'Cats were written off by most.
But NU bounced back, channeling an up-tempo offense with a talented, explosive core in Thorson, Jackson and Austin Carr. The 'Cats rattled off three Big Ten victories in a row, and almost took down Ohio State in Columbus. Despite injuries and positional challenges, NU did what it needed to do, winning two of its last three games and becoming bowl-eligible.
And now, here we are. Just a few months ago, NU's season seemed lost. What remained of a 10-3 team a year ago appeared to be gone. But Fitzgerald and his team stayed the course, and salvaged what was left. The 'Cats bent – but they never broke – and they ended their season on top.
Game Notes:
Thorson threw his 22nd TD pass of the season, passing Brett Basanez for the most in a single-season by a NU player. Carr had six catches for 51 yards, totaling 1,247 receiving yards on the season. That's also a NU single-season record, and Carr's 12 TDs are tied for the single-season record. Jackson passed 4,000 career rushing yards in the first half – the NU career record is 4,485. Jackson will be back for his senior season, ready to establish himself as one of NU's all-time greats.