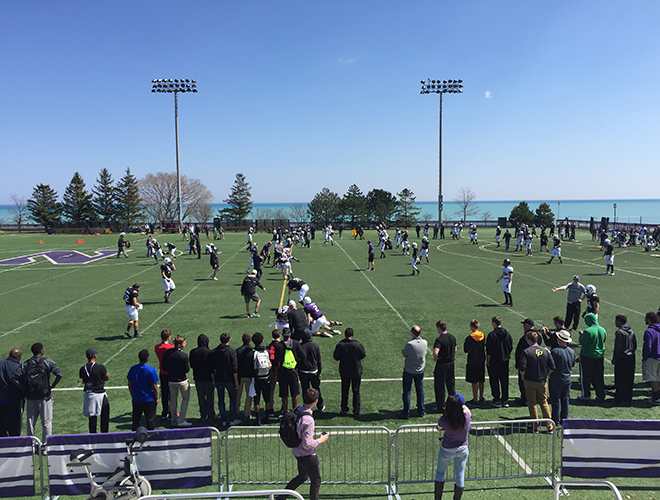 It's been a tough year for Northwestern football, as the Wildcats have endured union controversy, the loss of several key players and a disappointing 5-7 season that kept them out of a bowl game for the second year in a row.
So when the voice of the head coach Pat Fitzgerald boomed across Lakeside Field, site of the team's annual open practice, it could've been to criticize a player or confirm something with an assistant coach. If we're being honest, Fitz had every reason to be negative about the state of his football program.
Just not today.
"This a traditional dizzy bat race and hot dog eating contest," Fitzgerald said, as the entire team cheered and lined up for the end of practice festivities. They split up into teams, some spinning around a baseball bat in full uniform and some on their stomachs eating hotdogs in the end zone.
It was that kind of afternoon for Northwestern football, a chance to celebrate the end of Spring practice and look forward to the 2015 season – one the Wildcats hope will mark a return to their winning ways.
Here are some scribbles and observations from a memorable day at Lakeside Field.
•The 'Cats three-way quarterback competition has been the talk of spring practice and Saturday provided a great look at who exactly Fitzgerald and his staff are working with. Redshirt freshman Clayton Thorson took most of the first team reps, but it wouldn't be wise to read too much into that because, according to Fitzgerald, the QB's have been taking turns running with the first team. Thorson was joined by redshirt sophomore Matt Alviti and senior Zack Oliver, who also turned in solid performances. Nobody really stood out, but Thorson certainly looked comfortable and flashed the dual-threat ability that has Northwestern fans so excited for the future. He had a nice run where he improvised on a broken play to pick up some yardage during the scrimmage.
•With star sophomore Justin Jackson out for the spring with a "lower body injury," Saturday was a chance for the 'Cats' other running backs to show Fitzgerald and the coaching what they can do. Junior Warren Long was impressive, demonstrating a mix of power and elusiveness that could lead to plenty of playing time behind Jackson and an expanded role in 2015. He carried tacklers downfield seemingly every time he touched the football and should be a third-down option this year. It was also an impressive debut for redshirt freshman Auston Anderson, who could be a nice complement to Jackson in the backfield.
•The 'Cats receiving core has been depleted by injuries, so there wasn't a lot to take away from Saturday's practice, but a few players stood out. The return of Christian Jones in a Northwestern uniform was a welcome sight, as the fifth-year senior will be the 'Cats top target in the receiving game. He had a few nice catches on Saturday.
•On defense, it was promising stuff for Northwestern. Players like Anthony Walker and Godwin Igwebuike who emerged last season could take on starting roles in the fall, but be on the lookout for some other names who could breakout. Junior defensive back Kyle Queiro had a nice pick during 7-on-7 drills.
•One player who the 'Cats will be counting on next season is junior Matt Harris, as the 12-game starter in 2014 will have to make an impact at cornerback. He looked great on Saturday and had a few crushing tackles that stood out.