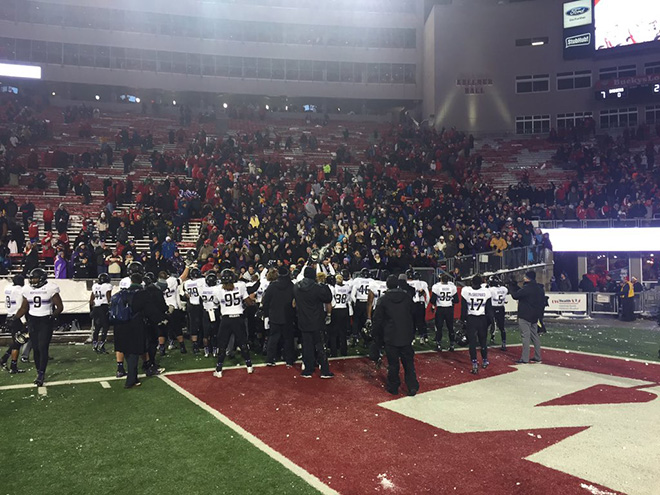 No. 20 Northwestern beat No. 25 Wisconsin 13-7 on Saturday, and none of it made sense.
Not the calls. Not Northwestern's ultra-conservative game plan on offense. And certainly not the final score.
But after playing 60 minutes of football at a frozen Camp Randall Stadium, the Wildcats are 9-2. And nothing else matters.
The 'Cats secured a victory after two game-winning Badger touchdowns were called back in the final seconds.
"One heck of a defensive battle," head coach Pat Fitzgerald said. "We found a way to get one more stop and that was key. I'm incredibly proud of our kids. They persevered and they've been through a lot."
The Wildcats couldn't have asked for a better start against Wisconsin, as Nick VanHoose picked off a QB Joel Stave pass early in the first quarter. With Northwestern facing a short field, it took three runs from Justin Jackson to give the 'Cats a 7-0 lead.
But it was pretty much a slap fight after that.
Neither team was able to do much offensively in the first half, with the most exciting action taking place in the stands. A friendly snowball fight in the student section turned into target practice, as Wisconsin cheerleaders and Bucky the Badger were pelted by their own fans. They were ushered off the field to a chorus of boos.
"I got hit with one on the field," Jackson said. "That guy's got a great arm."
On defense, Northwestern was in vintage form, pressuring Stave throughout the afternoon and shutting down Wisconsin's run game. Matt Harris stripped WR Tanner McEvoy on an impressive first quarter fumble and the 'Cats sacked Stave three times, as Northwestern took a 10-0 lead into the locker room.
Wisconsin would finally wake up in the third quarter, as Stave hit WR Jazz Peavy (2015 All-B1G Name of the Year Finalist) for a 42-yard completion, which set up a Badger touchdown.
But the first of two plays that will be talked about for a while (in Madison anyway), came later in the third. A go-ahead Wisconsin punt return was called back, after the officials determined Alex Erickson had signaled for a fair catch beforehand.
That changed the game, and turned the crowd firmly against the officials.
With a 3-point lead and neither team moving the football, the Wildcats looked to grind it out. A steady diet of Jackson up the middle and Thorson quarterback keepers went nowhere, and after a Jack Mitchell field goal made it 13-7 Northwestern, the Badgers had a chance to win it.
Wisconsin twice had game-winning touchdowns called back, once when WR Troy Fumigalli was ruled down at the Wisconsin 1 and again when a touchdown pass to Jazz Peavy was overturned on review.
Suffice to say, snowballs were thrown.
It ended when a fourth-down pass from backup quarterback Bart Houston (because, of course) slipped through the hands of Tanner McEvoy in the end zone.
Northwestern stormed the field in complete jubilation and Camp Randall Stadium fell silent. With some snowballs.
"We knew it would be a defensive game and that's what happened today," Dean Lowry said. "I think it comes down to the fourth quarter. That's been a huge part of our success this year, just finishing games and having that competitive edge."
After the victory, Northwestern moves into second place in the B1G West. While NU can't win the division, the 'Cats can still lock up a 10-win season with a victory over Illinois next week.
This post was updated at 7:04 p.m. to include a photo and notes from the postgame press conference.